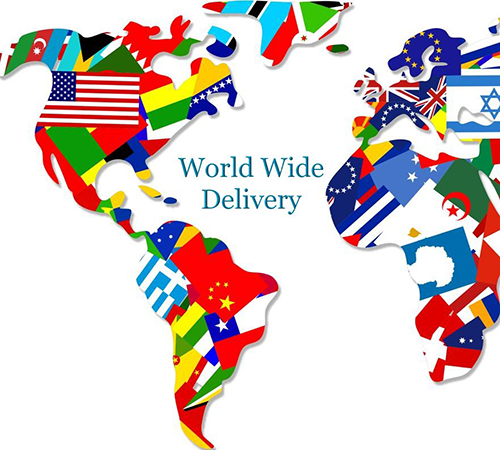 Deliveries:
1) Delivery will normally take place within the timescales estimated on the order acknowledgement, however this is only an estimate and time shall not be the essence of any order. Some smaller Goods may be delivered by post or courier and certain ranges of mirrors and furniture will be delivered direct by the supplier. After consignments are dispatched, Outlet mirrors will not be held responsible for any delays suffered by the delivery company. Any date specified for a delivery to take place is regarded as a preferred date and, while every effort is made to deliver consignments on preferred dates, this is not guaranteed by Outlet Mirrors & Furniture or by any third party working on behalf of Outlet Mirrors & Furniture. Certain Goods will require some form of assembly and it is the Buyer's responsibility to assemble the Goods. Delivery will only be made to the delivery address specified on the original order. If you reside in a block of flats please make us aware pre delivery as we only send a single driver to deliver So for large items we need to know. We dont deliver goods upstairs to in accessible rooms.
2) incorrect delivery addresses: delivery costs will not be refunded if an incorrect delivery address or incomplete adddress is supplied as we have to pay for each and every delivery up front. it is the customers responsibilty to make sure there address details are correct when submitting there order.
3) London congestion zone and new emissions charges are payable should your address be within this zone. a seperate invoice for payment will be issued. we as a company do not pay this charge for you.
4) Delivery of items to some scotland post codes and some England and Wales postcodes are dispatched by a pallet delivery to you as it not cost viable to hand deliver goods to some locations.
A pallet delivery is a curb side delivery only and the item(s) will need removing from the pallet it's secured on.
5) Cancellation of delivery prior to delivery or a customer not being in - then a delivery charge is applicable and chargeable.
6) Re-delivery of goods is chargeable at the cost of delivering to your location.
7) Courier deliveries: Goods accepted on delivery and should there be any damage it must be reported within 2 hours of delivery once this time has ellasped we cannot accept damage reports As by signing for goods in good condition it invalidate our insurance.
8) goods can be sent back with the courier free of charge should they arrive damaged - once the courier has left the customers premises the return cost of the item if damaged has to met by the customer and must be reported within the two hour time scale. We cannot accept any reports or damage claims after this 2 hour period.
9) Damaged goods must be returned in the packaging they come in. We will not accept goods back if not in there orignal packaging. Goods returned back when damaged will be checked for any furhter subsequent damage and any further damages will be charged for and taken off your refund value due back.

10) all goods delivered by our own driver will require signing for and checking on delivery. Once signed for we cannot accept damage reports
11) should a product have a manufacturing defect have a one year product guarantee unless the item is sold as seen or special offer non returnable
12) If goods are accepted without you checking them or you refuse to check them on delivery responsibility passes over the customer should any damages occur and no claim for goods can be accepted and no refund or exchange can be given.
13) We give customers adequate time to check goods on delivery. if the goods are damaged please return back with the delivery driver / courier company free of charge - If not returned back with the driver the customer will have to pay to return the goods should we agree to accept them back which is at the discretion of company.
14) We gernerally do not deliver goods upstairs due to health and safety and liability insurance issues so All furniture is delivered to downstairs only.
15 bespoke made wall art is non refundable or returnable once ordered. Goods that we have to order in are also non returnable.
16) incorrect delivery addresses: delivery costs will not be refunded if an incorrect delivery address or incomplete adddress is supplied as we have to pay for each and every delivery up front. it is the customers responsibilty to make sure there address details are correct when submitting there order
17) should a customer crack a door or draw by over tightening a handle too tight we cannot be held responsible. Handles do not come attached to the units. We can try and assist with you a replacement part of repair but it is chargable.
18) prices for uk delivered goods are charged per order.
INTERNATIONAL EXPORT ORDERS
19) Export orders worldwide have prices listed for your country on the checkout page, every order is set up calculated by the weight of the item by country - the price is subject to change as shipping companies do amend there prices daily and flutuate so prices are a guide only. Order cancellations are subject to a 20% cancellation cost.
20) We book delivery for international orders on your behalf in essence - as we take no responsibility for export orders.
Uk Bound and international Exports orders signed for without checking on delivery, You must and we stress you must take out insurance for your delivery -goods cannot be reported as damaged too us and no credit note will be given as we are booking delivery on your behalf. Your also welcome to arrange your own preferred delivery company.
21) Delivery costs and Export order delivery costs are non refundable.
22) We do not accept damage reports for international consignements but we do go above and beyond to package your goods safely for transit.
23) international orders must be insured by the customer - we do not insure your product so if you wish it to cover against damage you must insure it. we book your consignment on your behalf but we take no responsibilty. customer clearnace charges if applicable are the customers responsibilty, returns costs and all additional fees for failed deliveries are the customers responsibilty. should your shippment be returned the customer is liable for these costs and any amount be chargeable. we as a business ship goods on your behalf as we do not wish to get involved in international shipping.
24) we do not offer a returns policy due to the product being furniture and wall art made to order.
25 Should you choose to accept part delivery of an order those items are not refundable once delivered.
26) sizes and dimensions are on each product so please make sure if ordering something you have measured up as once an item is delivered it cannot be returned for a refund.
27) ALL EUROPEAN EXPORT CUSTOMERS MUST SUPPLY A VALID EORI NUMBER OTHERWISE YOUR GOODS WILL NOT CLEAR CUSTOMS - customs -duty and customs clearance is the responsibilty of the customer & not Outlet mirrors and Furniture Ltd.
28) should customs contact you or us we pass your details on to them - should you fail to respond to there requests the goods can be disposed of after they have exhausted all avenues of communication with you. we take no responsibility for this and stress it is the customers responsibilty in there own country.